Auto Crane products comply with California Code, Vehicle Code – VEH § 35251 part (b) of the code noted below which provides for hydraulic restraint of the boom: Section 35251. (Amended by Stats. 1994, Ch. 704, Sec. 21.) Cite as: Cal. Veh. Code §35251. A letter of compliance is available below.
Auto Crane now provides an accessory decal as part of the crane ship kit for vehicles operating in California. The decal notes that our cranes comply with California Vehicle Code Section 35251 (b) for stowed booms by meeting ASME B30.5.
Decal PN 715064001 is designed to be applied to the crane boom support and be visible from the ground to make inspectors aware that our cranes meets the code by meeting the ASME B30.5 standard.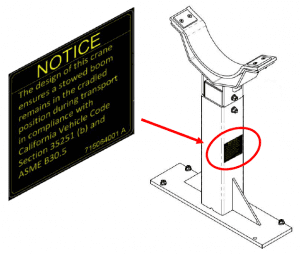 Directions
Clean the boom support area, remove the adhesive cover from the back of the decal, apply to the boom support, and remove the top protective cover.
For questions or concerns please contact Auto Crane's customer service group at 800.777.2760 or 918.438.2760.
Last Update: August 6, 2020
Tell us how can we improve this post.
Log In is required for submitting new question.