Auto Crane has historically left the option of using a fuse or circuit breaker for electric-hydraulic (EH) crane power up to the installer and end customer which is why our manuals currently do not have a recommendation.
Starters, winches and other high current motors on vehicles typically do not have an inline fuse. While those circuits do have a solenoid the wire remains unprotected in the event there is a short circuit.
Circuit protection can be added for the relatively low additional cost. A 300 A fuse should suffice for single function operation.
Install the fuse as close to the battery as possible (within 16″) using a fuse such as the Littelfuse ZCASE which mounts directly to certain chassis battery posts or the Littelfuse MEGA and Bussmass AMG series fuse pictured below with links to the datasheets.
Also see the bulletin on Chassis Alternators and Auxiliary Battery for EH Cranes.
Note that EHC-5/6 (5005EH/6006EH) cranes have a auxiliary battery for the VSU which should also be fused. Be sure to use a slow-blow (automotive) type and not the industrial fast acting fuse.
Littelfuse ZCASE Series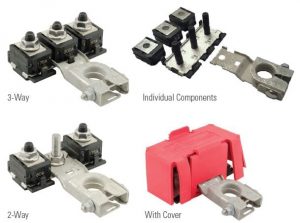 Littlefuse MEGA Series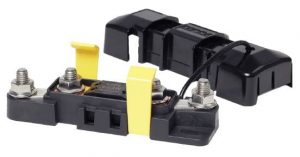 Bussmann AMG Series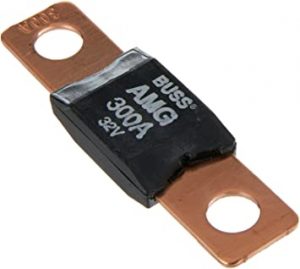 Last Update: July 19, 2018
Tell us how can we improve this post.
Log In is required for submitting new question.