Load Hook Attachment
The load hook attachment has been changed to an open-style allowing the crane operator to drop the load hook with traveling block when the boom is elevated. The load hook with traveling block typically deploys at:
65° boom angle without hoist-down command
35° boom angle when the wire rope is already slack and the boom is then raised
Additionally, the hook attachment is bolt-on making an easy, inexpensive replacement when it's damaged.
The stainless steel construction keeps your crane looking it's best on this high wear area where paint gets chipped and scratched.
Order PN 479200154 for square boom cranes or PN 479200154 for hex boom cranes.
---
Rotation Limits
The external rotation switches will be replaced with the internal design used on HC-7x/8x cranes on the new wireless and hard-wired cranes. This not only improves reliability by moving the switches and wiring internally where they can't be damaged, it gives cranes an outstanding 450° rotation. Mechanics can unload into the bed and stow the crane without having to rotate all the way back around to get to the boom rest.
Former Rotation Limit Switches
The former rotation limit switches were either the plunger style Honeywell switches or a proximity switch.
New Rotation Sensor (NexStar cranes)
NexStar 4 cranes now feature a rotary encoder which locates the crane for the AutoDeploy™ and AutoStow™ functionality. 450° rotation is now possible (45° CCW and 405° CW from the stowed position which is the 0° reference). The sensor is mounted on the rotation drive.
The EHC-3.2 and EHC-4 cranes will still use the Honeywell rotation switches and not be capable of AutoDeploy™ and AutoStow™. The limitation is due to the rotation drive that is used.
New Rotation Limit Switches (Wireless and Hard-Wired cranes)
The new wireless and hard-wired cranes now use this internal-style limit switches as shown below which gives cranes the same outstanding 450° rotation.
---
Rotation Drive
The current ring-pinion drive will be replaced with a worm drive on EHC/HC-5 to HC-8 cranes similar to the rotation on the HC-7x/8x cranes.
Ring-pinion to worm drive reduces backlash by 56% greatly reducing the side-to-side movement
Rotation limits have also increased from 370° to 450° with the new switch design
Ring Pinion Drive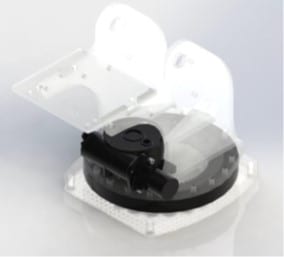 Worm Drive
---
Lift Cylinder
The current lift cylinder has the clevis that pins to a lug on the pedestal with a ball joint bearing.
The new lift cylinders will have a cross tube on lower end of the cylinder that pins to the side plates. This adds side-to-side stability.
Last Update: December 23, 2020
Tell us how can we improve this post.
Log In is required for submitting new question.