Overview
This post contains information for advanced troubleshooting for the NexStar 2 and 3 control systems. These systems are identifiable by the LCD screen on the receiver mounted to the back of the crane. The NexStar 1 system had LED lights on the receiver.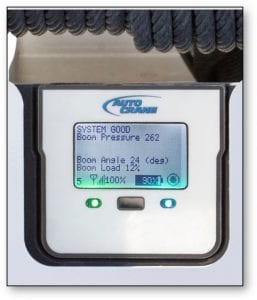 NexStar 2 remotes are either 8-button for EH cranes or 12-button for H cranes.
The NexStar 3 remote is blue and features a monochrome LCD and pistol grip.
---
Error Codes
The following error messages can appear on the LCD screen.
Err: Trig detect fail – Trigger in handle detection invalid.
Err: Input XX active – Digital input is active at startup
Err: HW motion X fail – Motion reading invalid value
Err: Motion X active – Motion reading an active value at startup
Err: Trigger active – Trigger reading an active value at startup.
ESTOP hit – Estop activated.
PD-No activity – Inactivity timeout.
PD-powered off – Off switch activated.
PD-Low Battery – Low battery condition met.
Init failure – Internal failure during initialization.
On/Off failure – On off switch invalid value.
Estop Failure – Estop switch invalid value.
Invalid Board Rev – Board revision invalid value.
Fall detected – Accelerometer fall detected (strike).
Long Fall detected – Accelerometer long fall detected (free fall).
Tilt detected – Accelerometer tilt threshold detected.
Invalid Serial Number – Serial # value invalid.
The NexStar 2/3 Receiver Drawing details which input or output is connected.
---
Software Updates
The crane tuning can be adjusted and new software can be installed using the Magnetek RCP program. Contact Auto Crane for additional assistance.
Last Update: October 11, 2021
October 11, 2021 349 webmaster
Wiki
Tell us how can we improve this post.
Log In is required for submitting new question.