Overview
This post contains information for advanced troubleshooting for the NexStar 4 control system. This system is identifiable by the updated remote with color LCD readout, the Controller with cooling fins, and the Base Station module.
Linking a Remote to the Base Station
Reference the dealer information bulletin, NexStar™ 4 – Remote and Base Station Pairing, attached below. You can also watch this video.
Error Codes
Using the Parker G11 Bluetooth modem (PN 366823408) will assist you in troubleshooting most of the problems. This modem connects to your smartphone using the Parker IQANgo app available for free at the Apple Store or Google Play.
The modem also allows the customer to create a connection for you or Auto Crane tech support to remotely connect to the crane using an inexpensive, 24-hour IQANconnect license which can be purchased from the IQAN store. NOTE: The remote connection only works while the customer is connected to the crane and has a cell signal for data.
Base Station
The flash patterns on the the Base Station indicate the following the conditions (click on image).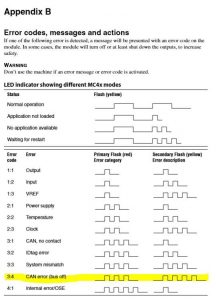 Software Updates
…
Last Update: June 26, 2017
June 26, 2017 196 webmaster
Wiki
Log In is required for submitting new question.