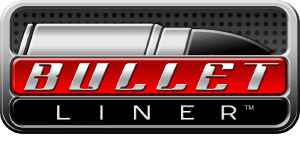 Auto Crane uses Bullet Liner® bedliner.
While other brands like Line-X and Rhino were once more popular, they have issues. Auto Crane offers the best performing bedliner on the market, Bullet.
Our own testing has shown that Bullet outperforms other bedliners especially in UV light testing. If you've seen bedliners turn chalky white in less than a year, you know what we're talking about. Competitors even sell "enhancements" to mask the problem with their bedliners. Why not use the best bedliner to begin with and avoid the problem?
Here's a video showing some fun testing and an interview explaining the difference. The testimonials of unaffiliated customers is further proof that Bullet is the best!