Kits:
PN 605000000 – HC-7 to HC-12s
PN 605000030 – HC-12/14
There was a time and place where you got the job done no matter what. OSHA and MSHA don't agree.
Why not use your crane to locate a tie-off point or "personal anchorage connector" where it's convenient and prevent a life-changing fall?
Add or retrofit a fall protection kit to your 5,000 lb and larger capacity cranes for attaching a restraint harness lanyard. The anchor point has a corrosion-resistant finish and is rated for 5,000 lb according to OSHA 1910.140(c) – Personal Fall Protection Systems.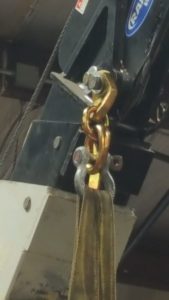 MSHA has issued this Personal Fall Task Training Guide.