Why haul a separate aerial work platform or bucket truck to the job site when you can have your mechanic put this fold-up man basket in the back?
Unfolds and deploys in a few minutes thanks to a patent-pending single-piece design
MSHA-approved solution in place of ladders
Sturdy hinged-design puts the mechanics at ease while doing work
Auto Crane has developed and patented (US20200109039A1) single-piece personnel basket that is lightweight and collapsible.
30″x30″ platform with a 42″ rail height
350 lb capacity (1 person and tools)
Solid construction of 6061-T6 aluminum saves payload and doesn't rust
Quick attachment adapter fits to most existing Auto Crane cranes from HC-5 through HC-14 as well as prior models (5005H through 14005H)
235 lbs total weight
ASME B30.23 compliant for B30.5 cranes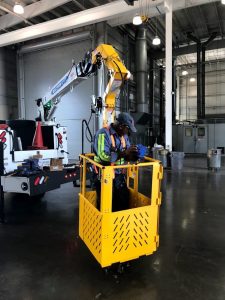 The basket can be stored in a convenient location on the inside of the bed making it a snap to connect to the crane, lift out and deploy. The optional storage has a narrow profile only takes up about 14″ of bed space in the front 3 ft.
Part Numbers
Man Basket
P/N 605001000 – Personnel Basket PBAF-350
Crane Adapters
P/N 605001204 – HC-5,6 Adapter
P/N 605001179 – HC-7 though HC-10, 12s
P/N 605001213 – HC-7x,8x
P/N 605001221 – HC-12
P/N 605001222 – HC-14
Options
P/N 605001180 – Personnel Basket Storage Vertical
P/N 605001188 – Tool Tray