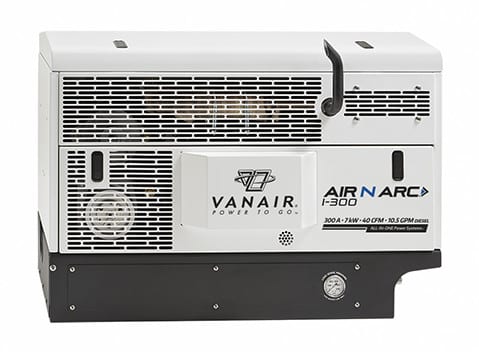 | | |
| --- | --- |
| Engine: | 25 HP Kubota®, Liquid-Cooled (Tier 4 Compliant) diesel |
| Air Compressor: | Rotary Screw, 40 cfm free Air at High Speed 30 cfm Free Air at Idle, 175 psi max |
| Generator: | 7 kW Peak – 6.8 kW Continuous, AC Power, 60 Hz, Single Phase, 120V GFCI and 240V Outlets |
| Hydraulic Output: | Up to 13 gpm, Up to 3,000 psi (10.5 gpm Hydraulic Piston Pump) |
| Welder: | High Frequency DC Welding, 270 amps at 100% Duty Cycle, CC: 40-300 amps Operating Range, CV: 15-30V |
| Battery Charge/Booster: | 300A 12V/24V Boost, 50A 12V Charge |
| Drive System: | Belt Driven |
| Fuel Capacity: | Plumb to Chassis or Optional 12 gal Remote Tank |
| SKU: | 739188100 |
Vanair's inclusive, innovative, indispensable Air N Arc® I-300 is the first system in the world to offer six forms of power in a single 48" unit with full multi-functioning capabilities. The Air N Arc I-300 unique system allows you to turn off the trucks engine and while still supporting the electrical of the truck, so all the emergency lighting can still be used without fear of killing the truck battery. Based on the technology of the Air N Arc 300 diesel system, it provides an integrated 40 cfm rotary screw compressor, 7 kW AC generator, 300A welder, battery booster and battery charger, with the added power of a 13 gpm hydraulic pump…all driven by a single engine. The Air N Arc I-300 offers enough power to run a crane and the technology to integrate with the crane control.
The Air N Arc I-300 offers 270A of 100% duty cycle welding… more the competition's suitcase welders can deliver.
Included Accessories
Auto Crane Kit PN: 739188100
AIR N ARC I-300 (Vanair PN: 050790-003)
REMOTE PANEL HARNESS (Vanair PN: MA269937-14)
BATTERY CABLE EXTENSION (Vanair PN: MA269945-16)
BATTERY BOOST CABLES 25′ (Vanair PN: MA269938)
WELD CABLES X 25′ 1/0 (Vanair PN: MA269814-25)
HYDRAULIC TANK ASSY (Vanair PN: MA6120139-001)
VIBRATION ISOLATOR KIT (Vanair PN: KIT1202)
AUTO CRANE REMOTE CONNECTION (Vanair PN: EP274475)
CRANE REMOTE WIRE (Vanair PN: EP272646)
WELD CABLES X 25′ 1/0 (Vanair PN: MA269815-25)
See the Vanair website for further details.