Tulsa, Oklahoma, June 19, 2023 – Ramsey Industries is pleased to announce that Kerry Baskins has joined the company as its new president and CEO.
Baskins arrives at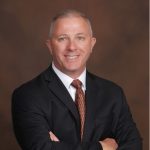 Ramsey Industries following a five-year tenure as president and CEO of Peak Toolworks, North America's largest engineered diamond and carbide cutting tools manufacturer. He has served in executive leadership roles in various top-tier global industrial manufacturers, including IDEX Corporation, Grundfos Pumps, and Accudyne Industries. His new role at Ramsey Industries is effective immediately, and he will split his time between Ramsey's offices in Tulsa, Oklahoma, and the Eskridge Inc. office in Olathe, Kansas.
Tim Kuehl, partner at Norwest Equity Partners (NEP), a leading middle market investment firm that acquired Ramsey Industries in 2017, states, "Like NEP, Kerry's experiences have been focused on investing in businesses for accelerated growth and developing a strong culture for sustained success. He is a proven leader who recognizes the potential of Ramsey's premium brand portfolio, excellent engineering and customer service, and operational know-how. We are confident his expertise will identify new areas of growth for Ramsey and look forward to working closely with him and the management team to create long-term, sustainable value."
Baskins brings over 30 years of experience to his new role. A United States Air Force Veteran and self-proclaimed "career salesman," Baskins followed a commercial path through the first 23 years of his professional life, starting on the order entry desk and progressing to leading global commercial teams throughout the Americas, Europe, Asia, and the Middle East. In 2013, he began leading organizations in the private equity environment and has gained a reputation for his ability to build high-performance leadership teams and highly engaged employee cultures.
Baskins holds a bachelor's in business administration from Wartburg College, an associate degree in electronic systems from the Community College of the Air Force, an MBA from Keller Graduate School of Management, and a master's certificate in Lean Six Sigma from Villanova University.
"Ramsey Industries is a fantastic organization that is currently setting new records in many areas," says Baskins. "As with any great company, it is the quality of our people and their collective dedication that truly sets us apart. I am impressed and energized as I connect with employees and learn about the positive culture that helps Ramsey win. I believe this combination of our team and our shared commitment of focusing on our customers' success will continue to make Ramsey the supplier of choice and fuel our strong growth trajectory."